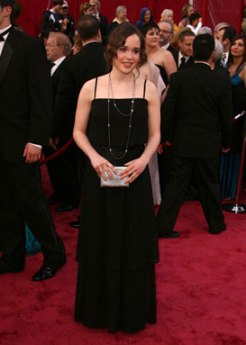 Ellen Page, who last week narrowly avoided winning an Oscar statuette for Best Actress, has also now narrowly avoided starring in Sam Raimi's return to horror, Drag Me To Hell, Bloody-Disgusting reports. The uproar from the rising star's fans when she accepted the role last month was overwhelmingly positive, but Ellen's desire to return to horror and her Hard Candy roots has proved to be a fleeting fancy.

B-D cites her distaste with the latest draft of the script, but also implies that Page's brush with Oscar gold has her re-thinking the scope of her career. Perhaps it's Halle Berry's version of hell that Ellen Page would rather avoid being dragged to.
Berry followed up her Oscar win with eye-rolling turns in Catwoman, Robots, and X-Men III, leaving most fans wondering if she'd suffererd amnesia and forgotten that she'd actually WON the award.
At
this point, what's more depressing to consider: that Page might
consider herself to be above working on horror projects now that she's
hit the big time, or that Raimi's new film really isn't looking as hot
as we'd hoped?
Read More