Bruce Willis Helps John McClane Break the Habit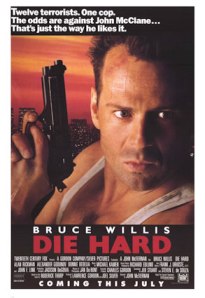 If John McClane can quit smoking anyone can. Seriously. This guy is under a lot of stress. (Next his doctors will want him to give up drinking and fighting terrorists.) There's no explanation as to why or how the Die Hard hero broke the habit — knowing McClane it was sheer willpower — but he's not lighting up in Live Free or Die Hard .
The Hackademy Awards, designed to raise awareness of the impact of tobacco use in films, took notice and gave his character and the action movie their top honors in February. Youth reviewers were impressed because it was "exactly the kind of film you'd expect to have smoking in it and it didn't.'" It turns out McClane did get a little help quiting — from Bruce Willis. The actor told Vanity Fair: "I didn't want to feel responsible for any kid smoking to try to look cool because he thought I looked cool doing it."
Willis started out wisecracking on Moonlighting, took it to the big screen and never looked back. He's AMC's Hollywood Icon for March 2008. Celebrate the actor's ability to talk tough (with or without a cigarette hanging out of his mouth) and tune into Die Hard all month long. It all starts tonight, Saturday, March 1, at 8PM | 7C.
And check out our slideshow of his wiseguy characters and now famous wisecracks.

Read More