Doctor Who Time Travels to Last-Gen Consoles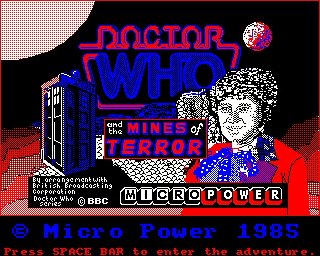 Theoretically, time travel is the ultimate concept for a video game. After all, it has the advantage other media doesn't: Interactivity. If a game were well-programmed, it could provide an incredible time travel simulation: You could travel back in time to fix problems in the future, or wind up in self-correcting time paradoxes.
What would truly be wonderful about such a game is if it were programmed with a dynamic time engine, similar to most modern games' physics engines. In other words, if you could go back to any point in the game that you'd already played and change your game's past to solve problems in the future, without that specific leap back in time having been programmed and scripted in advance. A challenge? Sure. But surely someone's up to it.
Unfortunately, I seriously doubt it's Eidos, the company behind the Tomb Raider franchise. They have just announced that they have picked up the rights to the one, the only, the Last of the Time Lords, Doctor Who. Although no release date has been mentioned, the game will be released on the PlayStation 2, the Nintendo DS and the PC.
In short, it's going to be shovelware, or, to slip out of the argot
of the game biz, "crap." If Eidos was serious about releasing a good
game based on Doctor Who, they'd be pushing their game to the
360 and the PlayStation 3. Don't expect anything from this one, folks.
I just wonder how they'll inevitably turn Doctor Who into a run-and-gunner.
Doctor Travels Space, Time and PS2 [SF Universe]
Read More