Director Douglas Buck on Remaking Brian De Palma's Sisters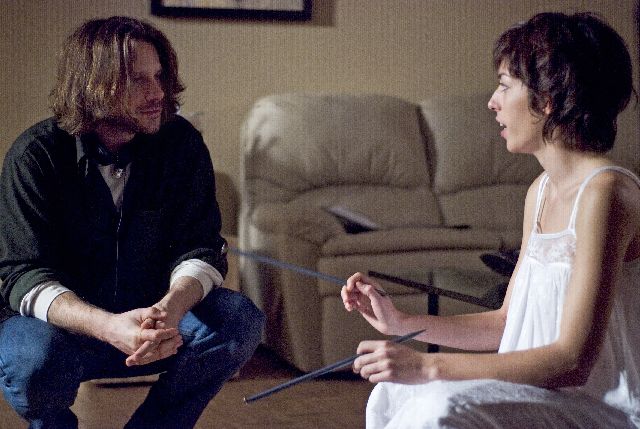 Best known for his disturbing short films (available on DVD as Family Portraits: A Trilogy of America), director Douglas Buck has now moved into features with Sisters, a remake of Brian De Palma's 1973 shocker. Buck's take will be released on DVD next week by Image Entertainment.

Who: Douglas Buck
Horror Job: Director (Sisters)
Favorite Horror Film: Cries and Whispers , by Ingmar Bergman. "I think ultimately horror films are about Death. They're about grappling with the meaning of dying, death, and possible nothingness. And, man, does Cries and Whispers grapple with all of that."
Q: How did you get involved with the Sisters remake?
A: It took almost eight years for me to even get in to meet with producer Edward R. Pressman [The Crow] and pitch Sisters. When I finally did, I told Ed I believed it would be a perfect story for me, considering the many still-fertile themes of the original film. Fortunately, Ed watched my short films and agreed.
Q: What separates Sisters from the rest of the crappy remakes these days?
A: 99% of the horror remakes are producer — and finance — driven projects, the genesis of their creation being the marketability of the title. Ed had the Sisters property, but sat on it and waited until a filmmaker approached him about it, dying to do it. I came in feeling I could say something with the film. There are some really interesting ideas explored — as well as a few good murder scenes.
Q: So how did you make this material your own?
A: I understand the desire for comparison in cases like this. All I can say however, is that, as a filmmaker, you write the script, then shoot the movie based off the script. Early on, the original was no longer in my mind; I set up the shots and directed the actors in ways that made sense to me, not in any way that references or speaks of a comparison. I was trying to tell a story of two women, controlled and scarred by men and the medical profession, who come together and break free from the societal chains that bind them — with the help of some sharp objects, of course.
Q: The lead is particularly essential in Sisters. How did you come to cast Lou Doillon?
A: The first time I met Lou Doillon was at a bar in Vancouver the night before we were going into production. We had another actress cast and ready to go who dropped out four days before production, and we were in danger of collapsing without a lead. However, fortune intervened and Lou fell in our lap. Her commitment and courage — under such a ridiculously short prep time — was startling.
Q: Have you heard from Brian de Palma yet?
A: Not a word. I've invited him to screenings but never heard back. From what I've heard, he's a little suspect of remakes on his films. Can't blame him. Remakes often suck. I would love one day to hear from him if ever he sees it. He is, after all, a favorite filmmaker of mine.
To check out our review of Sisters, click here.
Read More