Deep Inside Dark Sector: A Look at the New Game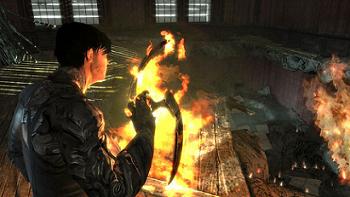 D3 is a small video game company trying to do big things with Dark Sector, its upcoming horror-based shooter. In development for five years, the PlayStation 3 and Xbox 360 offering will feature a dismal future in which your character, Hayden Tenno, is infected after travel to a fictional Soviet bloc country. He mutates. Others go terrifyingly mad.
Tenno's mutation involves the addition of a scythe-like weapon. Using the glaive to attack all manner of mutations, Tenno works his way through monsters and mysteries, sometimes worrying he'll go insane, too. In this GameTrailers segment, the designers worry whether they'll be able to finish the game on time without sacrificing too many features. You'll see a combination of pride, fear and humility in their faces as they speak about the forthcoming Dark Sector as their wonderful but monstrous baby. We'll all know if the horror game's a flop or a hit shortly after March 25, its release date.
Read More