David Hajdu's The 10-Cent Plague Revisits the Comic Book Scare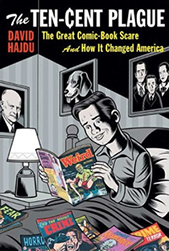 Tomorrow marks the release of a new book, many years in the writing, by David Hajdu, the award-winning non-fiction writer (and, full disclosure, occasionally my former editor at Entertainment Weekly). Why should MonsterFest readers care about The 10-Cent Plague? In perhaps the most in-depth manner since the under-appreciated paperback All in Color for a Dime, Hajdu takes a critical look at the time when comics, especially EC comics, were thought to lead to juvenile delinquency.
Created by the struggling outcasts of society, these comics are considered horror classics today. But in the 1950s, psychologist Fredric Wertham's Seduction of the Innocent struck fear into the minds of parents everywhere, and horror comics — even Batman comics — were destroyed in large bonfires. In painstaking detail, Hajdu, now a professor at Columbia University, chronicles the inside story of what could have been the death knell of the genre.
How did the comics survive to wreak terror as graphic novels today? That answer will cost you about $25.
Read More