Dark Sector: Two New Trailers, Two New Monsters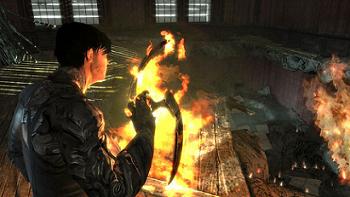 All this week, game company D3 is releasing trailers that include the fast-moving monsters in its soon-to-be released horror shooter, Dark Sector. Put it this way, you wouldn't want to meet the Stinger or the Chromas in real life. The Stinger, seen on Game Trailers, moves so fast, it'll suddenly glom onto you and start lashing out with knife-like nails that slash a la Wolvervine. The Chromas look like a sleek, black devil dog that howls balefully like a hound on the moors. The twist? The Chromas can become invisible as well.
Both trailers seem to bode well for the March 25 release of Dark Sector, which has been in the making for many years. Not only are there many distasteful monsters to fight off, there's a fairly compelling story about the mutated soldier of fortune Hayden Tenno. The game is so scary and violent, it's already been banned in Australia.
Read More