Daily Scan: 3.31.08 — UFO Spotting, Hulk Videogame and Beware of Authors Bearing Advice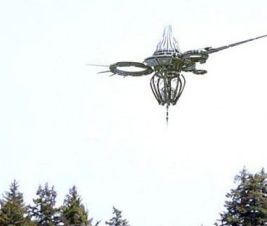 • Are these photos of a retro-cool spaceship part of a viral marketing campaign for the new X-Files movie or just a tease for Cloverfield II: Electric Alien Boogaloo?
• Larry Niven is among a group of sci-fi authors who are giving pro bono (and fairly ridiculous) advice to Homeland Security.
• If only the future actually looked like this Epcot Center concept painting from the 1970s for Spaceship Earth.
• Could an atom-smashing device
currently being built along the French-Swiss border actually rip a hole
in the space-time continuum and thus destroy the Earth? According to a
crusading botanist in Hawaii, yes it could.
• Superman Returns cowriter Michael Dougherty is helming Calling All Robots, an upcoming performance capture animated film with quite possibly the coolest title of all time.
•If the recent teaser for The Incredible Hulk didn't fulfill your recommended daily dosage of "Hulk smash," then check out the trailer for the Incredible Hulk videogame just released by Sega.
Read More