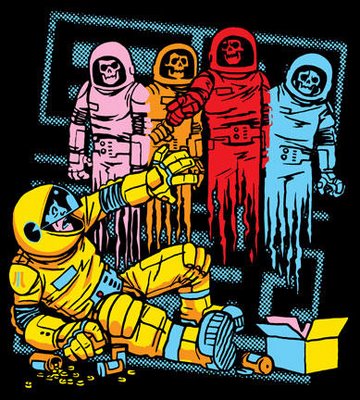 • A lone dancing stormtrooper terrifies the streets of Tokyo, but is regrettably not kaiju-sized.
• Fashion designers of the 1930s predict the styles of the year 2000. Pop some Substance-D, because this will blow your mind: In the future, women will wear pants. Oh swish!
• The curse of being Pac-Man: An outer-space astronaut hopped up on goofballs experiencing horrible visions of his rotting deceased comrades.
• The best Star Trek pinball machine.
• This woman knits the most darling zombies.
• The SciFi Channel gets an Indiana Jones exclusive in a
documentary exploring the "Mystery of the Crystall Skulls. "NBC News
anchor Lester Holt will examine the myths and the controversies as he
takes audiences inside the lab to discover the truth about these
mythical skulls." Um, its not a controversy when reasonable people
disbelieve the caveman mysticism of a bunch of savages three millennia
ago as totally unconnected to reality. Just a thought.
• SF Signal explains the appeal of sci-fi and fantasy art.
Read More