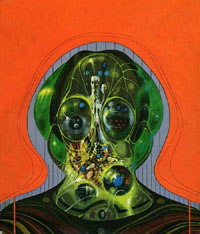 • If you're chomping at the bit to know when you can expect to see the U.S. season premieres of Doctor Who and The Sarah Connor Chronicles, good news: April 18 and 11, respectively.
• I thought this had already been settled, but Show Me SciFi has gone into panic mode to get The Sarah Connor Chronicles a second season.
• A strange interview with a very smug looking George Lucas, in which he claims The Clone Wars series could potentially go on for "a hundred years." He's joking, but keep in mind the ionized dust of the last horse he kicked to death.
• Christian Bale is being remarkably non-committal about a third Batman movie, considering the fact he's probably signed to three. He also gets angry when you call it "the sixth Batman fllm."
• Chris Carter says the X-Files 2 filming has wrapped. Also, that image of Scully and Mulder sucking face was "just to wind up the fans." I can think of other romantic shots they could leak to the press to get me even more wound-up.
• Hedonia posts a gallery and biography of Richard Powers, sci-fi paperback artist extraordinarite.
• io9 argues that prequels aren't just dumb, they're evil. I'd tend to agree.
• Speaking of io9, two blogs call them out on recent posts. SF Signal
argues that their latest post on the death of sci-fi was just
sensationalist, page-view grabbing and poorly argued claptrap that no
one on staff believed. Meanwhile, Bad Astronomy kicks the teeth in about their science in a recent post on bad movie physics. Ouch.
Read More