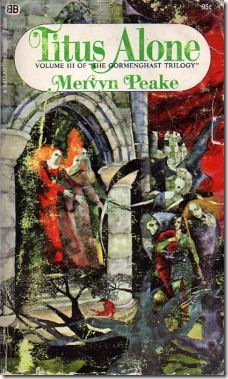 • Gary Gygax, the creator of Dungeons and Dragons, died yesterday. It's a tragedy, and while I'd like to write about it, the simple fact of the matter is so many people are writing so much more poignant things about it than I could. For more testimonies, check out this Metafilter thread. Also, io9 points out Gary Gygax's own sci-fi obsessions.
• Jon Favreau talks about Iron Man and Skywalker Sound.
• David Edelman writes a brilliant post on Mervyn Peake's Titus Groan. "Maybe the author of the fantastic we should be comparing Peake to is not J.R.R. Tolkien but Philip K. Dick, the poet of paranoia, who believed that God sent him messages through a pink laser."
• Star Trek goes the Buffy Season 8 route.
• More analysis of the Indiana Jones / UFO connection.
• A first look at Liev Schreibner as Sabertooth in the new Wolverine movie. I hate this guy.
• Speed Racer goes IMAX.
• It's hard to believe this goofy guy in the cardigan riffing on Shatner was in The Usual Suspects, isn't it?
Read More