Buffy Gets Her Girl, Starts "Experimenting"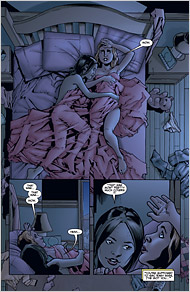 The world's prevailing authority on vampire slaying has just gotten even worldlier. Fans who have followed Buffy off the television screen and onto the pages of her "Season 8" comic book series will be rewarded with a new wrinkle in the slayer's personal life. The new issue (#12) follows Buffy into the arms, and bed, of another slayer– and it's a woman!
Creator Joss Whedon reassured the New York Times that this new character development has been well planned out, but not overthought. ""We're not going to make her gay, nor are we going to take the next 50 issues explaining that she's not." Whedon clarified. "She's young and experimenting, and did I mention open-minded?" The lucky (or unlucky, based on Buffy's track record) lady in the picture is Buffy's protégé, Satsu, whose feelings were revealed in recent issues. The coupling bodes poorly for Satsu's health, however, as Buffy herself noted: "People who love me tend to … oh, die." But in the meantime, says Whedon, "It puts Buffy in an 'Oh my God, what did I just do?' moment," that the readers get to participate in. Is it too much to hope for that the couple who slays together will stay together?
Read More