Beyond Tall, Dark and Handsome: The Michael Myers Makeover
Novelist Scott Sigler's horror columns will appear every Friday through the end of March.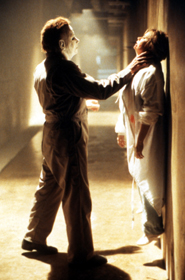 Now don't get me wrong, I'm all about finding a signature style and sticking with it. General MacArthur without the corncob pipe is just some dude in a uniform, and James Hetfield without the trademark "Oh is this a 'candid' shot for an interview? Hold on while I get my snarl on" snarl is just some old guy that harshes on the kids for file-swapping his music. But come on, I mean come on, don't you think 30 years of the same pair of coveralls is pushing it just a little bit?
I think it is, and that's why it's time for Michael Myers to get a little makeover. Come on, homes — you've already got the "tall, dark and handsome" thing down cold, so get some threads — 'cause the ladies is waitin'!
I was checking out the AMC schedule (I'll be honest, I'm late for this deadline and I'm totally scrambling for a blog topic) and saw that Halloween and Halloween 4 were coming up for a hack-a-licious a.m. double-header, and that got me to thinking… Michael Myers, what is that damn set of coveralls made out of? That's 30 years of some serious wear and tear. I mean, 50 Cent gets shot in the chest a lot too, but the man gets some new clothes from time to time. So aside from the fact that you need to patent whatever fiber comprises that suit and sell it to DARPA for a fat piece of that black-budget pie, you need to check into Scotty's So Fresh & So Clean School of Good Graces.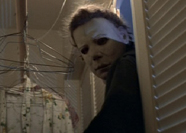 The first step to any makeover is: Assess the current wardrobe. So Mike and I headed to his closet. As you can see from the picture at left, there ain't a whole lot going on in there. Just some old floral-print house coat from the Ghost of One Night Stands. (See, Mike pledged Kappa Sig, and it was one hell of a kegger — maybe he did one shotgun too many, so cut the brotha some slack on the size 27 romance artifact, will ya?)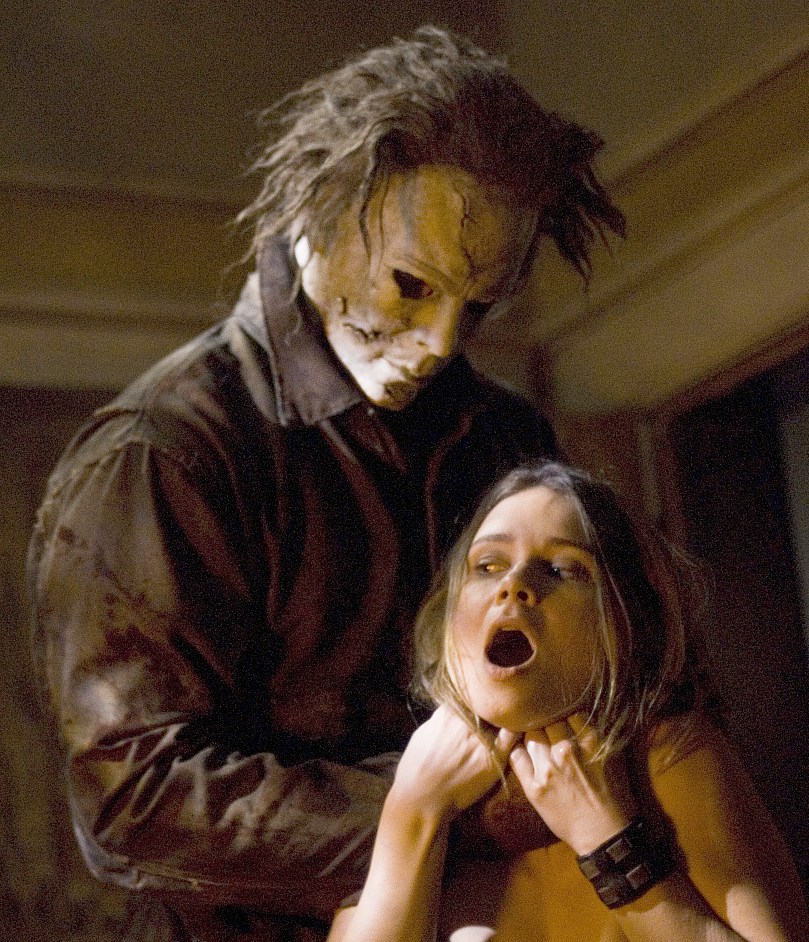 In fact, the only non-coverall gear going on was Mike's Members Only leather bomber (which was already out of style around Halloween 5 , but Mike still likes to think he can put it on and something will happen). Here's a candid of Mike when he wore it to Koi for the after-party for Rob Zombie's Halloween remake, showing the man-about-town saving a poor girl from choking on the asparagus & wheat germ torte! Word is Mike even hammed it up for the paps afterwards before hopping in his Jag for a late-night drive with Paris. I hear there's a bit more to the story, but you'll have to get that from Perez, because this blog is about hardcore horror, thank you very much.
Now we know that Mike is AMC's horror-movie meal ticket, so I asked
the network brass to put in a call to the peeps at Bravo. Bravo
dialed up the Queer Eye cats who, oddly, had a little time on their
hands and an urge to make that monster over.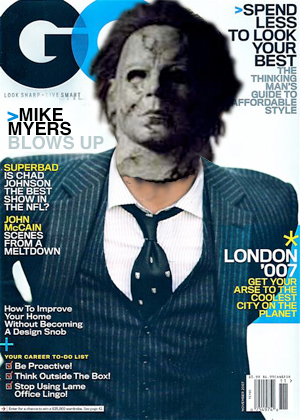 Two
quarts of shampoo, an industrial de-louser, an emergency tailoring
session with Giorgio Armani and sixteen tabs of Prozac later… blammo… Michael Myers is a hunk-a-riffic coverboy for GQ. Move over Tom Brady, Gisele has a new piece of arm candy.
Join
us next week, when we'll try to dry clean Freddy's sweater and have a
Rogaine intervention for Jason Voorhees. Let's be honest, that
third-degree scalp isn't exactly hollering "bring it, you swingin'
foxes!"
Scott Sigler writes tales of hard-science horror, then gives them away as free audiobooks at www.scottsigler.com. His first major hardcover, Infected,
hits stores on April 1, 2008. If you don't agree with what Scott says
in this blog, please email him scott@scottsigler.com. Please include
all relevant personal information, such as your address and what times
you are not home, in case Scott wishes to send someone to "discuss"
your opinions.
Read More