Back From the Dead: Terrifying Toons of the '80s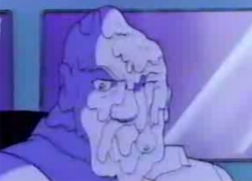 Smurfs, Care Bears, Ninja Turtles. We see the '80s through a fog of nostalgia as a time when the most harmful thing about a cartoon show was its blatant toy-selling agenda. Topless Robot would like you to watch My Little Pony battle demonic overlords, and think again. Their "The 10 Most Insane, Child-Warping Moments of '80s Cartoons" catalogs choice examples of unintentionally(?) upsetting moments in cartoon history, such as: Mutant turtles lusting after humans, Shipwreck's family melting in G.I. Joe, the Smurfs singing someone to death.
While a couple of their selections prey on children's confusion about sexual maturity (Jem's romantic scruples, the mostly-nude Thundercats), this list makes a strong case for innocuous Saturday morning fare as the springboard to hardcore horror-fandom, with excellent video clips to back it up. Does the sight of the Care Bears raising the dead not give anyone else the heebie-jeebies?
Read More