Aye Begora! Leprechaun Screens on St. Patty's Day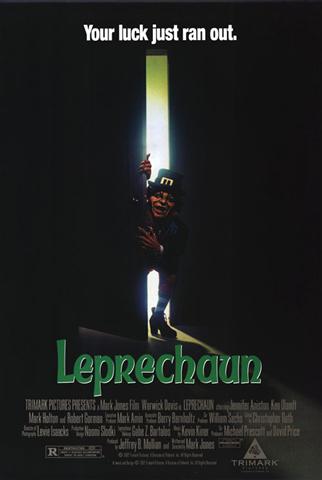 Some holidays are lucky to have great horror movies associated with them — Halloween and Black Christmas , for example — but unfortunately St. Patrick's Day has to make due with Leprechaun, the movie now best known as the skeleton in Jennifer Aniston's closet. This is where the luck of the Irish ran out, my friends.
Let's get this out of the way: Leprechaun is an awful movie; it's not even "good bad,"– it's a chore to sit through. Not even the idea of seeing Aniston in an early role makes it fun, and that "I want me gold" routine got old around '94 or so. But Austin's Alamo Drafthouse will be screening the movie tonight at 10pm while Austin's 6th Street, recovering from the insanity of SXSW, is in the midst of the insanity of St. Patty's Day. (The whole of Austin is going to be mighty hung over for the rest of the week.)
They're serving green beer and a bowl of Lucky Charms to go with it, and no doubt Zack Carlson will come up with some pre-show fun and games to make it worthwhile. But do yourself a favor and down as much green beer as possible, because that's what it's going to take to make this movie bearable. First the potato famine, then Leprechaun. Can't the Irish catch a break?
Read More