AVP III To Bring Back Space Marines?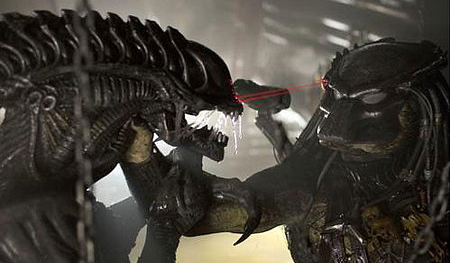 I look forward to another Alien vs. Predator movie about as much as I look forward to a bag of unbuttered, unsalted microwave popcorn after I have a bucket of freshly popped laden with pure, creamy butter. Sure, okay, I guess. I suppose I'll enjoy it. Yeah, thanks for that. But after James Cameron's Aliens or the first Predator movie, isn't everything else just a gluttonous disappointment?
So a third AVP movie doesn't excite me in and of itself. But there are murmurs that the probably-inevitable sequel will be on the right track. The Strause Brothers, directors of Aliens Versus Predator: Requiem, seem to want to return the franchise to space. Apparently, AVP:R was originally meant to end with a shot of the Predator homeworld, but they left it off for the next film.
Good move: The xenomorphs on Earth angle always did strike me a pretty weird. Plus, a return to space indicates a return of space marines, and let's face it… that's what we all want, right?
Third AvP In The Works? [UGO Movies Blog]
Read More