Audie Murphy: Not Just a Star, an American Hero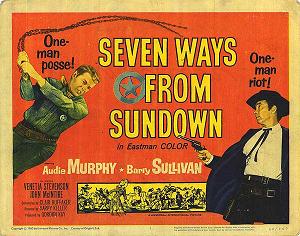 Back in the day, you couldn't get much bigger than Audie Murphy. As the most honored soldier in World War II with 21 medals, Murphy penned a bestseller called To Hell and Back, a compelling tome full of the brutalities of war.
After the memoir hit the bestseller list, it led to a biographical movie in 1955 starring — who else? — Audie Murphy. The film shattered box office records and the certified American Hero became a sought-after Hollywood Celebrity who, despite suffering post traumatic stress syndrome, went on to star in 44 movies, 33 of which were Westerns.
But Murphy's path to stardown wasn't without skeptics: In the train robbery movie, Night Passage, Audie, as the Utica Kid, faces off against Jimmy Stewart's Grant McLaine. Director Anthony Mann supposedly quit the film because he felt Audie — hero or no hero — was too short to play the taller Stewart's sibling, and was replaced by James Neilson. Night Passage plays this weekend with Seven Ways From Sundown. In it, Murphy, as Seven Jones, is hired as a Texas Ranger to track down a devious killer.

Seven Ways from Sundown, Saturday, March 1 @ 8:30AM | 7:30C; Night Passage @12:30PM | 11:30C on AMC. For a complete schedule, click here.
Read More