Argento's Four Flies Hits Bootleg DVD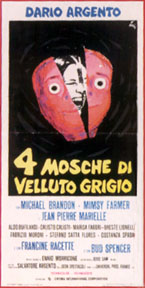 A word of warning to anyone out there who offers you a DVD copy of Dario Argento's 1972 giallo, Four Flies on Grey Velvet: It's a bootleg.
Four Flies is the last major Argento film not yet available on DVD and it isn't even legally available in Europe or Asia. Fans have been demanding it for years, but rights issues have tied up. Although Paramount released the feature in the U.S., there's some question as whether or not they still own it, giving someone else the perfect opportunity to take the initiative and make their own — rights be damned.
The DVD on the market comes from Germany and is in the PAL video
format. It's also taken off of a 16mm print, so the picture quality
isn't so hot.
That said, a lot of work has gone into the disc, as it
contains English and German audio, German subtitles and a series of
trailers, TV commercials and alternate credits. Not bad for a bootleg,
really.
And it begs the question as to just what is taking Four Flies
so long to make it onto disc. Paramount has never shown much interest
in the film, despite constant fan inqueries, and efforts to license the
film have thus far proven fruitless. But complicated rights issues have
been worked out for other films, and who knows, maybe this boot will
convice the powers that be to get their acts together. But in the
meantime, be aware — this release really is too good to be true.
Read More