Ant-Man is Serious Business!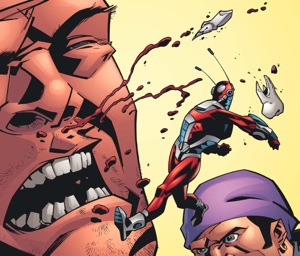 Earlier today, I decided that Marvel, in becoming its own film production company, had finally perfected the algorithm of incredible superhero movies… or, at the very least, the algorithm of incredible superhero movie trailers. Iron Man and The Incredible Hulk both look like the best pure comic book movies of anything that's ever been released. Yeah, I went there.
Still, we're really not going to know for sure until they go ahead with Ant-Man. On the surface, it's one of the sillier properties they could bring to the big screen. A superhero who can be easily squashed under a plummeting big toe would seem to demand a campy treatment. And that's probably what Marvel had in mind when they contracted Shaun of the Dead's Edgar Wright to adapt Ant-Man for the silver screen.
And yet Wright seems intent on taking the hero seriously: "It's written and we're doing a second draft of it," said Wright. "It's going to be less overtly comedic than anything else I've ever done. It's more of a full-on action adventure sci-fi film but with a comedic element — in the same spirit of a lot of escapist fare like that. It's certainly not a superhero spoof or pastiche and it certainly isn't a sort of Honey I Shrunk the Kids endeavor at all."
We'll see. If he can make an Ant-Man as cool as the one knocking the teeth out of the thug to the right, I'm in.
Hot Fuzz Director Takes Ant-Man Seriously [io9]
Read More