Another Remake: Attack of the Killer Tomatoes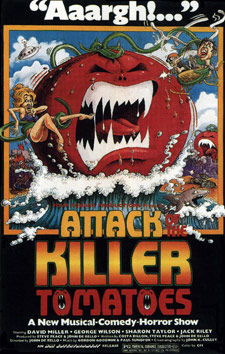 Attack of the Killer Tomatoes was never considered to be a fine film. Rather, it was a B-movie send up of monster movies of the so-bad-it's-good variety. On the other hand, some people consider it to be the worst film of all time. Now, the two guys who worked on the online series, Ask A Ninja, are putting together a redux for Emmett/Furla Films, the same company that came up with the idea for new versions of Day of the Dead and Terror Train.
When Ask A Ninja's Kent Nichols tells the Hollywood Reporter, "Attack of the Killer Tomatoes is the masterwork of a
generation….We can only aspire to recapture
that magic," you have to wonder is he serious? Semi-serious? The humor just doesn't come through. While Ask A Ninja has its moments, you also have to wonder about the intelligence of the people who greenlit a remake of Killer Tomatoes. The original is fun, but it's inane. Do we need to see more banal horror movies when money is tight and a recession looms?
Read More