Alison Lohman Replaces Ellen Page in Raimi Film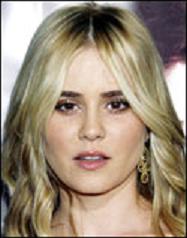 Alison Lohman, who did such fine work in White Oleander and Where The Truth Lies , is replacing Ellen Page in Sam Raimi's new horror film, Drag Me to Hell. Page dropped out due to scheduling conflicts, but it could also be that she simply became too big to be in another horror film. Plus, Hard Candy in which she played a young girl who turns the tables on a pedophile and becomes the torturer, was such a difficult emotional experience with that another horror offering might be just too taxing. Though the performances were well-acted, the disturbing and violent film received middling reviews.
Still, Sam Raimi is almost just as hot coming off the blockbuster Spider-Man series. While Lohman is no Page, she's a hard working actor with some serious chops. If she shines in the movie about an "unwitting recipient of a supernatural curse" and the film does great box office, Page may well regret her decision, er, scheduling conflict.
Lohman Replaces Page in "Hell" [Variety]
Read More