A Super Victory for Heirs of Superman Co-creator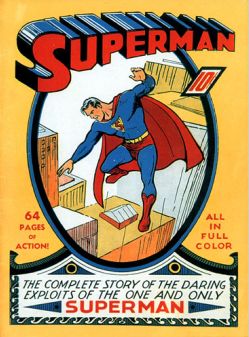 The New York Times reports a major victory for the heirs of Superman co-creator Jerome Siegel. After years of bitter court battles (one which resulted in DC Comics' recent loss of the Superboy character), the Siegel family has finally been awarded co-ownership of the Superman copyright in the United States. (Co-creator Joe Shuster's heirs could also benefit from the ruling by as early as 2013.) What does this mean for Superman? Simply stated: Time Warner is no longer the sole owner of the character.
More immediately, Time Warner could have to pay out a percentage of revenue generated by 2006's Superman Returns to the Siegel clan. Variety says this ruling could also affect plans for the upcoming Superman sequel, as well as the Big Blue's appearance in the troubled Justice League film. (This news comes on the heels of Bryan Singer's announcement that he'll return for Superman: The Man of Steel.)
Jerry Siegel and Joe Shuster famously sold their orphaned alien
character to Detective Comics (now DC) in 1938 for the astoundingly
paltry sum of $130. If the ruling sticks,
Time Warner wouldn't be allowed to exploit the Superman character for
merchandising without the Siegel estate's permission.
Interestingly
enough, the lawyer who won the case for the Siegel estate also fought a
similar battle for the creator of the TV show, The Wild Wild West. The show was later turned into a film , also from Warner Bros.
Read More