A Father's Memory Inspires Forrest Gump's Author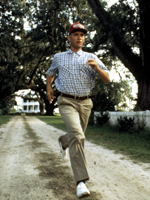 Author Winston Groom grew up in Mobile, Alabama, the son of a prosperous lawyer. After college and a stint in Vietnam, he attempted to make a living as a writer. By 1986, the year he wrote Forrest Gump, he was dividing his time between New York City and a friend's place in Point Clear, Alabama. Groom recalled, "I was living in New York and would come down in the winter to warm up. On Sundays, my daddy and I would have lunch. At one of these lunches, he reminisced about this fellow he once knew, a man who was slow-witted but whose mother had taught him to play the piano."
Groom continued, "My dad told me about kids in our neighborhood teasing
the heck out of this retarded boy, until his mother taught him to play
the piano, and when the ruffians heard this exquisite piano music
wafting out of his house, they listened and quit their razzing."
"His
story struck something inside me," Groom revealed, "and then I saw a 60
Minutes show about idiot savants. I started making notes, and by
midnight I had the first chapter of Forrest Gump." Groom completed the
book in just six weeks, holed up in the former slave quarters on a
friend's property in Point Clear.
"I didn't have a message,"
Groom admitted. "I just wanted to show the modern world through the
eyes of somebody who's seeing it about 90° off. Other people have used
that device, but I don't think any of 'em have quite got Forrest."
"As
I see it, it's a story about human dignity, and the fact you don't have
to be smart or rich to maintain your dignity, even when some pretty
undignified things are happening all around you," Winston Groom
concluded.
The DVD_TV enhanced version of Forrest Gump airs Sunday, March 9 at 7PM | 6C. Click here for the complete schedule.
Read more about Winston Groom's Inspiration for Forrest Gump.
Sources:
Robert Epstein, "Forrest Gump's Proud Dad," Los Angeles Times, 8/7/94
William Grimes, "Following the Star of a Winsome Idiot," New York Times, 9/1/94
George Christy, "The Great Life," Hollywood Reporter, 10/17/95
Joseph Olshan and Cindy Dampier, "Surprise Package," People, 9/5/94
Read More