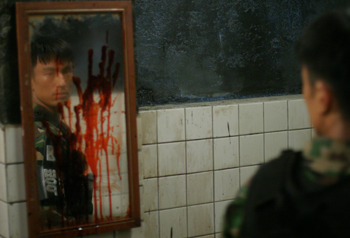 North and South Korea have been in an official state of war for almost 60 years, even though combat ended in 1953. But tensions flare. What could set them off? Perhaps a movie about an incident that takes place in the demilitarized war zone (DMZ) between the two countries.
Kaiju Shakedown is reporting that GP 506, a zombie film set in the DMZ, is due for release in South Korea this spring. The first trailer, which you can see right here, looks suitably creepy. It's from the director of the Vietnam war-set ghost story R-Point .
Expect numerous festival dates here in the U.S. and the inevitible Tartan Films or The Weinstein Co. DTV pickup by year's end.
Read More