X-Files 2: Duchovny the Werewolf?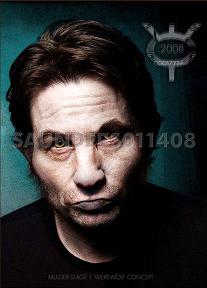 Is it real or isn't it? That's the scuttlebutt in the horror blogs these days when it comes to this strange photo of David Duchovny as a werewolf. Is the photograph key to the plot of X-Files 2? Or is this just someone messing around with Photoshop for a laugh? Bloody Disgusting believes it's the former, saying, "if it IS the real deal, it would
seem to lend further credence to the werewolf rumors, or at the very
least that the concept was under some sort of consideration."
Real or not, there's something almost sad about the mug-shot-like photo. It not only looks like Mulder hates being photographed and/or arrested. Mulder looks beaten down, like the world as he knows it is just too much for him to deal with. Some call the photo a spoiler. It's not: If it's real, it adds more questions to the latest X-Files mystery than it answers. All of which makes you want to see the movie … right now.
Read More