World Zombie Day Announced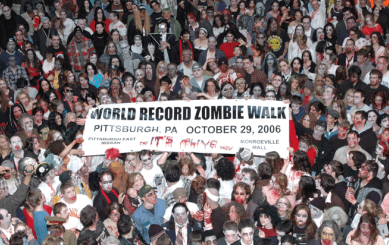 If your idea of fun is dabbling in white powder and fake blood, donning your funereal garb, and shuffling in a horde to raise awareness for world hunger, then October 26th is your day. The hosts of Pittsburgh's "The It's Alive Show," who have set Guiness World Records with their last two Zombie Walk events, have decided to conquer the world with this new charity event for world hunger.
Part non-perishable food drive, part zombie massacre, World Zombie Day is growing like crazy, already gathering contingents across the U.S. (Boston, Alaska, Raleigh, Los Angeles, and Seattle) and foreign shores alike (Germany and England, so far). If you're interested in finding or organizing World Zombie Day events in your city, head over to their MySpace page for the latest in news and walking-undead etiquette.
Check out the Zombies Tournament.
Read More