Will Chekhov's Wessels be in Trek XI?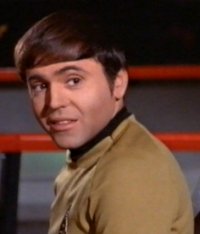 About the only details not spilled about the upcoming Star Trek XI concern whether or not J.J. Abrams is going to try to recapture the hokeyness of the original series. Will all of the technology of the 22nd Century still be extrapolated from Cold War oscillopscopes? Will Starfleet's women still wear miniskirts and go-go boots? And will the new Chekhov talk about "nuclear wessels" in that classic yet utterly un-Russian accent of his?
Well, at least "wessels" is in. Abrams' new Chekhov, Anton Yelchin, talked to MTV recently and confirmed he'd be doing some variation of the line. At the same time, he made it clear no one's trying to channel the original actors: Everyone is doing their own thing. Fair enough. But another comment Yelchin made does not bode well:
It's a sci-fi action film. Knowing nothing about 'Star Trek,' and going in and reading the script, I was totally fine. I thought it was great, and really interesting, and a lot of fun to read. Obviously, there are special [in-joke] perks if you've been a 'Star Trek' fan for 40 years. But I hope that anyone would go and see this film, knowing that it's gonna be an action movie.
That's going to drive a lot of tried-and-true Trekkies bazonkers. They've been hoping this was a return to the muted (although, frankly, embarrassing) exploration and moralizing of the earlier series. Instead, it looks like we're going to get a TOS version of Nemesis.
Anton Yelchin Talks 'Star Trek,' Wessels and Enterprise Aliens [MTV Movies Blog]
Read More