We're Here. We're Dead: American Zombie Poster and Trailer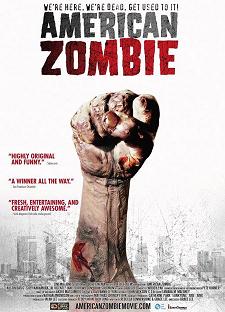 "We're here. We're dead. Get used to it." So proclaims the trailer for an upcoming comedy that's deadly funny, American Zombie. The film, which seems to be more about the fear of living outside of society than sheer comedic horror, is about two documentary filmmakers who, says the official Web site, are chronicling "high-functioning zombies living in
Los Angeles and their struggles to gain acceptance in human society." But the doc makers get more than they bargain for when they shoot at a raucous zombie gathering called Live Dead.
Sounds deep-ish. The poster's clenched fist, which mimes the classic dead hand rising from the grave (a one-sheet staple), is all about identity politics that will stop at nothing in an effort to be a force in society. A horror film in which you learn some real life lessons? Makes you want to travel to Los Angeles for a screening when American Zombie begins a limited release on March 28.
Read More