VF Photos Resurrect Hitchcock Films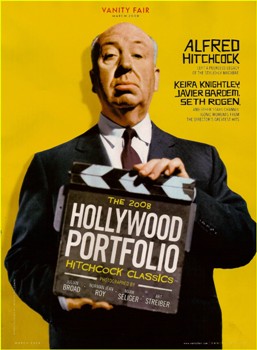 This year, Vanity Fair's "Hollywood Portfolio" takes a macabre turn, reimagining scenes from Alfred Hitchcock's films cast with contemporary stars such as Scarlett Johansson, Javier Bardem, Seth Rogen, and Charlize Theron. Vanity Fair also brings you behind the scenes of the photo shoot with an exclusive video, revealing the process to be as fun as the product.
Of course it's the horror movies that really shine, with Jodie Foster cowering in a phone booth to escape The Birds, and 2008 Oscar nominee Marion Cotillard subbing for Janet Leigh and taking the least private shower of her life. It's clear some of these actors would have been among Hitchcock's favorites if he was still making films today, particularly chilly blondes such as Gwyneth Paltrow and Naomi Watts — though this may be the first and last situation in which we see Seth Rogen standing in for Cary Grant.
Read More