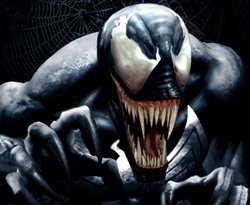 Spider-Man's slavering, whip-tongued evil doppelganger Venom has always been a contentious villain among fans. Sure, the evil mirror image is a classic superhero trope, but Venom was ultimately indicative of everything that was wrong with Marvel in the 1990s, the ultimate champion of their absurd line-up of brooding anti-villains.
But even Venom fans had to agree that the villain's portrayal in Spider-Man 3 was weak. Topher Grace made a good, whiny target, but a poor sociopathic villain — because his entire character arc was essentially a temper tantrum about Peter Parker getting his job.
Good news, then, Venom fans. A standalone Venom movie is in the works; it's a spin-off from Sony's lucrative Spider-Man series. There are scant details on what it will contain, though I think we all hope for a different actor in the role and a complete reboot of the Venom concept.
Venom Movie In The Works [IESB]
Read More