Valentine and the Death of Romance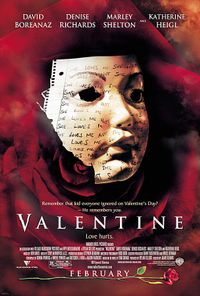 Happy Valentine's Day to all of you lovers of horror. During this ultra-romantic 24-hour period, I realize that Monsterfesters may need a break from the roses and candlelit meals for a few minutes of sheer terror. Along those lines, here's a bloody scene from Valentine with Charlie Sheen's lovely former wife Denise Richards as the ill-fated Paige Prescott. Is love dead? Well, Paige is thrown into a hot tub, locked in by the Plexiglas cover, then attacked with a huge drill by an angry guy wearing a Cupid mask.
By the way, this was one of Grey's Anatomy star Kathryn Heigl's first fright flicks. Although Knocked Up has propelled her to higher levels, she's screamed for her life in everything from Bride of Chucky to Zyzzyx Rd.
Read More