Troma Returns With Pot Zombies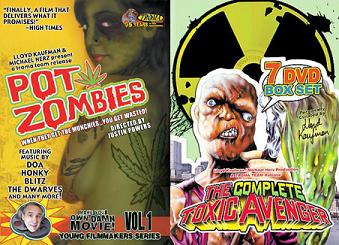 Come Tuesday, April 29, Troma will return to B-grade satire with two DVD releases: Pot Zombies and The Complete Toxic Avenger (seven disks!). Pot Zombies, part of the company's young filmmaker series, is the story of a radioactive marijuana which turns stoners into the braindead. The DVD comes with a smoking game; Troma honcho Lloyd Kaufman plays the role of the Mentally Challenged Pizza Dude.
The Complete Toxic Avenger features all four movies as well as the entire Toxic Crusaders animated series and a Making of Citizen Toxie documentary. If it's a little overpriced at $60, the Pot Zombies package might be better for your budget at a mere $15. There's a badly edited trailer of the latter on YouTube. A word of warning: It's as bloody as it is salacious.
Read More