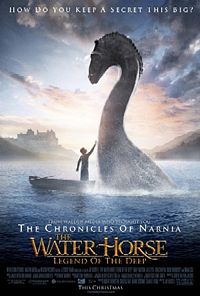 When Sony releases The Water Horse: Legend of the Deep on April 8 for DVD and Blu-ray, the Loch Ness monster tale will include a two-disc package full of enticing extras. These include Creating Crusoe, an exploration of the physical and special effects that went into creating the water horse; Myth and Legends, a mixture of thoughts and opinions about the origins of the Water Horse myth; and Setting the Scene, a look at the production design and the different locations used to create an authentic Scottish environment.
There's an added bonus on the Blu-ray DVD: An online game that lets you raise your own monster, Tomagotchi style.
If you missed the theatrical release, it's definitely worth checking
out on DVD. I've followed the career of director Jay Russell since
profiling him in New York magazine in the late 1980s. While he's been hit and miss, The Water Horse is a well-crafted charmer with touching and compelling performances by Emily Watson and young Alex Etel.


Read More