The Last Starfighter Returns?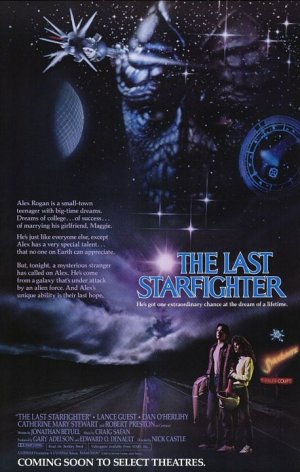 The first movie I can remember going to see in theaters was The Last Starfighter. I remember a secret cabal formed by my mother and myself as we swore to one another that we would not tell my pre-school teacher that I was not, in fact, being picked up early to go to a doctor's appointment, but to play hooky. Popcorn never tasted so delicious, no movie ever felt so exciting. The Last Starfighter defined the pleasures of rebellion in me.
Now, 23 years later, Internet scuttlebutt says a Last Starfighter 2 may be on its way into production. According to Cinema Blend, an outfit called George Paige and Associates is developing a sequel. The basic premise is Son of Starfighter: the son of Alex and Maggie kicking the Kodan Armada across the galaxy like his father before them.
The rumor sounds too good to be true, frankly: They also claim that
filming will start next month and director Nick Castle, writer Jonathan
Betuel and star Lance Guest are all coming back to make it. That sounds
unlikely, but if it's true, I may have another delicious day of hooky
in front of me.
Is the Game Really Over For The Last Starfighter? [UGO Movie Blog]
Read More