Starship Troopers 3 Tries to Please Everyone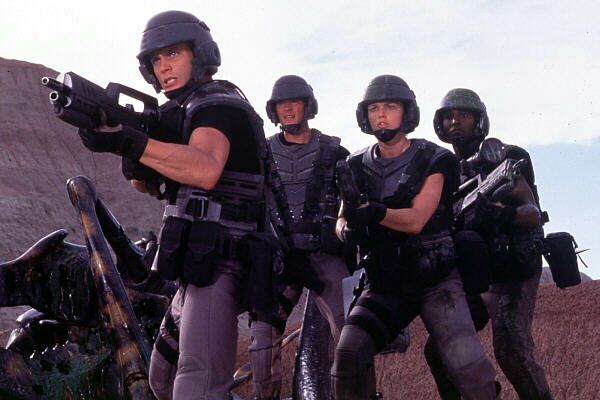 Over on the official site, Sony has released the trailer for the latest Starship Troopers sequel, Starship Troopers 3: Marauder.
The first film is a classic: Beautiful neo-fascist Kens and Barbies being gutted and exterminated with vigor by an infinite armada of vicious insects. Fans of the Robert A. Heinlein novel never liked it — it abandoned many of the core-concepts of the original novel, like power-armor, and focused on mashing up Beverly Hills 90210 with Aliens, all with a sly sense of parody.
The problem is that the second film, released directly to DVD,
basically hosed off on the franchise. It was so terrible that even
people who loved the first film just gave up on a decent sequel.
Starship Troopers 3 needs to work hard to win back fans:
the film series is now hated by the old faithful as much as its hated
by Heinlein fans. They're obviously trying to please everyone: A
withered and melted looking Casper van Dien is back as Johnny Rico and
the director is promising a return to the Heinlein universe (in fact,
there's a brief glimpse of power-armor in the trailer). But it's still
not exactly looking good.
Starship Troopers 3: Marauder [Sony]
Read More