Star Trek XI Action Figures Reveal Uniforms, Uhura's Cleavage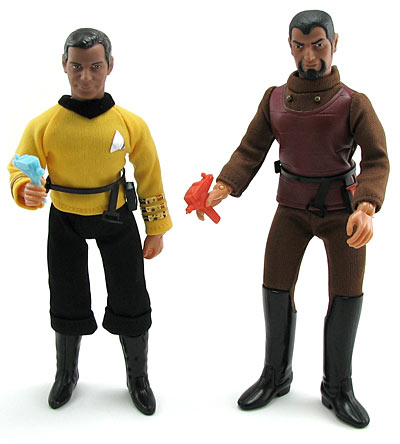 I've said this more than once over the last few weeks, but I'm honest-to-YHWH starting to believe it's the truth: Toys are now the premiere vehicle for movie spoilers. It makes sense, in a way: the design of toys has a long lead-in time, so they are privy to the final design of unrevealed movie elements like costumes, gadgets, and vehicles — and there's not the same sort of PR control over the information.
The latest details to get leaked from a toy are about Star Trek XI… specifically, the look of the phaser and the new uniforms. We've long been wondering if J.J. Abrams was going to stick with the futuristic go-go chic of the original series… and if this eyewitness at the recent German Toy Convention is to be believed, the answer to that is an emphatic "probably."
In the special Star Trek room were about 50 action figures, a few phasers, playsets, Spock's ring, Spock's ears and the new Enterprise. The action figures were not the final versions, but you could hardly tell that they weren't from the original TV-series but from the new movie. Kirk wore his famous yellow uniform (and black trousers), Spock his blue one (a little bit darker though) and Scotty the red one. The Leonard Nimoy Spock had a white monk-like robe, that looked like a variation on the one he wore in The Search for Spock.
But I know what you're thinking! What about Uhura? Is her cleavage the same as in J.J. Abrams' Federation? Rest easy, friends, says the insider: "She wore the same red communication uniform, but this time the skirt is much shorter and there's much more emphasis on her breasts. In this movie she will give Seven of Nine a run for her money!" Whew!
Spy from Toy Fair Germany on Star Trek, Hulk footage, Star Wars: Clone Wars and Iron Man. [Ain't It Cool News]
Read More