Star Trek Execs to Get Coal This Christmas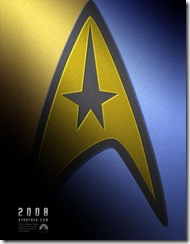 This won't be the year of Star Trek XI at all: Paramount has announced that J.J. Abrams' re-imagining of the original Enterprise crew will be delayed from its original Christmas premiere to May 9th, 2009.
The studio's execs claim they're delaying the film because they think Star Trek will make a better summer blockbuster, but I'm not entirely sure. I think the end of the WGA Strike may have given the Lost creator the opportunity to touch up the script a bit and re-write some scenes…something he's wanted to do for awhile.
As both a Star Trek fan and a Sci-Fi blogger, I'm torn by the news. On the one hand, this will give me five more months to pore incessantly over every scrap of rumor from the upcoming film. On the other hand, a delay is disheartening: I'm eager to see what sort of film J.J. Abrams is crafting, and to see whether or not it will live up to the canon that precedes it. Hopefully, the reasons for the hold aren't purely mercenary, and we'll end up with a much better, tighter movie as a result.
Star Trek Delay That Stole Christmas [SF Universe]
Read More