Space: 1999's Barry Morse Dies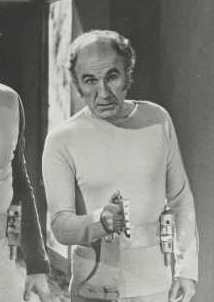 Fans of Space: 1999 will be sad to hear that veteran actor Barry Morse, who played Professor Victor Bergman on the classic British Sci-Fi series, passed away on Saturdady, February 2 at the age of 89.
Morse enjoyed a lifelong career in film, TV, theater and radio, performing many memorable roles, such as the relentless Lt. Philip Gerard on the hit television series The Fugitive. Sci-Fi fans will particularly remember his appearances in The Twilight Zone and The Martian Chronicles. His son, actor Hayward Morse, stated to the press that his father died at University College Hospital in London, after a brief illness.
In a recent video to fans, Morse seemed ever the thoughtful storyteller as he shared details about his latest book and quoted from Shakespeare's Henry V: "Old men forget: yet all shall be forgot/ But he'll remember with advantages/ What feats he did that day."
Read More