Some Kind of Monster: Weta's Drusilla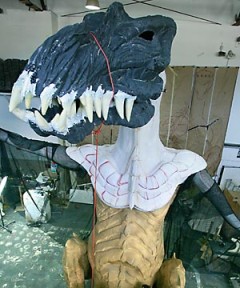 Ever wonder what New
Zealand's premiere special effects company,
Weta, does when it's not working on fantasy blockbusters like The
Lord of the Rings or Meet Drusilla, monster of rock . The Dominion Post talked with Weta
head, Richard Taylor, about the dragon they're making for event promoter
Phil Sprey.
She'll come to life at at the Rock2Wgtn festival this
March, and share a place on stage with Kiss, Alice Cooper, Ozzy Osbourne and
Lordi. Even though the heavy metal monster is really made of foam, Drusilla's
no softy. With a 50-foot wingspan, she'll stand 72 feet high. She'll get the
attention she deserves when she starts breathing smoke and shooting lasers from
her eyes.
Watch the
video of proud papa Tayler talking about the latest addition to the
Weta family. She might not be a movie star, but she'll be the life of
the party.
Read More