Producer's Diary: It's Oscar Time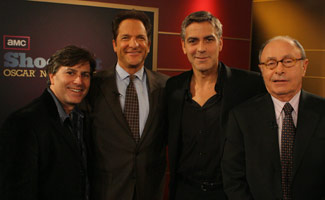 Since I began in this business, Oscar time has always been a seminal moment for me. I went to the Oscars once, a long time ago, and I vowed I'd never go to an awards show again unless I was nominated. It's not that I am marking the time until I walk on that stage (I mean, it's not JUST that), but that I use it as a time to evaluate how I've been doing–am I closer to my creative goals than I was last year at this time? There have been many years when that occasion has been a sobering moment. A crossroads. Should I continue? Cuz I ain't gettin' anywhere. There were more than a few years like that.
This year isn't one of them. This year has been the opposite–one of the best, not least of which is my job here at Shootout. I have two terrific parents–couldn't ask for better. But I always did want a Hollywood mentor, an industry father figure. And this year, I got two, Peter Bart and Peter Guber. I've learned more about this industry and my career working with them this year than I have the previous 15 years combined.
And the wisdom they offer me on a daily basis is on full display during our Oscar show, which airs Friday night, February 15 at 10:30 PM | 9:30C.
George Clooney was up first. Maybe the classiest act in the business. Right before he walked on, some fans had discovered which elevator he was coming out of. When the doors opened, they rushed in. You'd think it was The Beatles coming to America in '64. Our talent executive was so shaken she had to sit in the green room for the next hour. But George was cool as a cucumber–he walked on to the set, remembered everyone's name from the last time he visited with us in Toronto, and then gave an interview that is full of his typical charm, but also introspective in a way you're not used to seeing from Clooney or any star.
Laura Linney. The first time I ever saw Laura perform was on stage at Brown University, where we both went to school. She was already one of the best actresses I had ever seen and she certainly hasn't gotten any worse. To meet Laura Linney is to fall in love with her, plain and simple. Sorry guys, but sometimes, a spade is a spade, and you just gotta say it. You know what I'm talking about.
Hal Holbrook. The man just loves to be on stage. A storied career, and he gives us more than a few slices in the interview. Gracious and kind, and you can definitely see the humanity inside the soul that gives that outrageously good performance in Into The Wild.
Marion Cotillard. She was so good a month ago when we interviewed her at the Palm Springs Film Festival that I asked her if we could scrap that interview and bring her back for the Oscar show, because I felt that she was deserving of a bigger stage and more time on screen. And she fills every second of it. She transformed herself magically for the role of Edith Piaf. When you see her, you will not believe it is the same woman from the film.
Julian Schnabel is a piece of work. He wears pajamas under his formal wear. He definitely understands the Oscar Wilde sentiment, "There is only one thing worse than being talked about, and that is not being talked about." Watch the interview. You'll talk about him.
Brad Bird is immensely talented. And down to earth. We got a chance in the edit room to watch clips of Ratatouille frame by frame. What he filled those frames with is astounding.
All in all, I have to say, this is gonna be my favorite Oscars ever. And, if you watch our Oscar Nominees Special, you'll understand why.
Read More