Séance: Be Careful What You Bring Back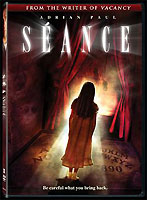 Have you ever been to a séance? They're pretty unsettling. (More
about my own experiences another week.) Maybe that's why I was interested in Séance,
a movie Lionsgate just acquired to release straight to DVD on April 22. According to Bloody Disgusting, some college students hold a séance during Thanksgiving break to get rid of a troublesome spirit haunting their dorm. But instead of exorcising the ghost, they invite back her killer. You have to love the DVD cover too, with those haunted faces in the blood-tinged wall and the Ouija board as a portal to a fearful unknown. Be careful what you bring back!
Read More