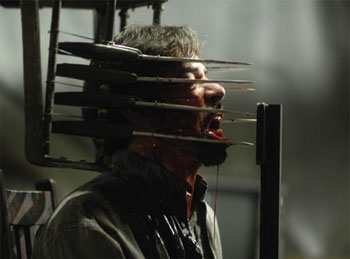 Recently, Bloody-Disgusting had a few words with David Hackl, who's just a few weeks away from directing Saw V. The results of his directorial debut will hit theaters on October 25. Even though Hackl's a bit of a neophyte, he's sure that his devious plans for Jigsaw's new traps will give you a jolt when you see them on the big screen.
Says Hackl, who says he's gotten inspiration from a DVD full of industrial mishaps and highway accidents, "Today I am looking forward to
making a phone call to one of our cast to ask him how he feels about
getting into a trap that could potentially kill him. For real. Of
course we will make it as safe as we can and have paramedics standing
by while we shoot. Its not like he really has an option and maybe it
will make him appreciate his life. Ha!!"
A little sadistic, is he?
Read More