Romero: "It's Scary Out There, Man"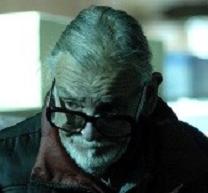 George A. Romero talked to the The New York Times yesterday to promote Diary of the Dead, which opens this coming Friday. It's a fine article with some exciting highlights, so let's get right to it.
-Bloggers scare him. "It's scary out there, man. There's just so
much information, and it's absolutely uncontrolled. Half of it isn't
even information. It's entertainment or opinion. I wanted to do
something that would get at this octopus. It may be the darkest film
I've done since 'Night of the Living Dead.'"
-His zombie's movies are about the changing times: "I always thought of the zombies as being about revolution, one generation consuming the next."
-His first paid gig was shooting documentary segments for Mister Rogers' Neighborhood.
-Wes Craven, Quentin Tarantino, Guillermo del Toro, and Stephen King have added their voices to his new movie.
-Fans always slip him their homemade zombie movies. He seems to be resigned to this.
-He's already working on a sequel to Diary of the Dead.

Read More