RKO Remaking 8 Classic Horror Movies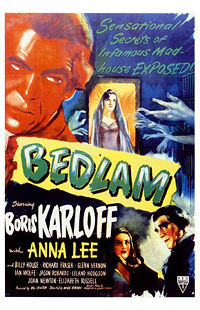 There's big news today from RKO, one of the original movie companies, which has created a new division called Roseblood. It's dedicated to remaking eight classic horror films directed by Val Lewton in the 1940s. Says Variety, "The slate includes Lady Scarface, which will be written by Tom Puryear; While the City Sleeps, which will be scripted by Shin Shomosawa and Jim Morris; The Monkey's Paw, which will be scripted by Todd Farmer; and The Seventh Victim." They'll also remake Bedlam, Body Snatcher, Five Came Back and I Walked With a Zombie.
But they'll have budgets of less than $10 million each. Why? Head honcho Ted Hartley says, "The most successful (return on investment) in the movie business comes from scary movies
that get wide release and cost under $10 million….We saw the
opportunity to take the rich Val Lewton library of scary thrillers and
create a unique company out of it."
The key here is to update these classic old B movies and to make them really frightening for today's audiences. While the old movies truly had their frights and chills–especially Bedlam–RKO will likely need to include more of the paranoia and sadism that makes audiences jump today.
Read More