RIP: Roy Schneider, Star of Seaquest DSV and 2010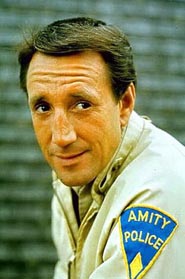 Movie sites around the web are turning in their post-mortem posts on Roy Schneider, a talented actor who despite starring in one of the most successful movies of all time, Jaws , never quite made the A list.
Schneider, of course, wasn't a stranger to sci-fi. He starred on SeaQuest DSV, a moderately successful NBC sci-fi show executive produced by Schneider's old Jaws guru and created by Rockne S. O'Bannon, who went on to create Farscape.
But Schneider's most memorable (and infamous) stab at the genre was in 2010 , the sequel to Stanley Kubrick's masterpiece, 2001: A Space Odyssey. The sequel has always been a guilty pleasure for me — it's utterly disposable — but
Schneider's performance as Heywood Floyd is sound, and ultimately I
love its cheesiness.
Schneider died in Little Rock, Arkansas, on Sunday afternoon from complications from a staph infection. He was 75.
Roy Schneider Obituary [New York Times]
Read More