RIP: "Gill Man" Ben Chapman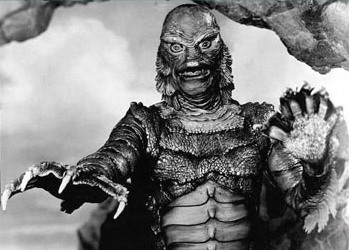 Sad news for classic horror fans: Ben Chapman, who played the titular Creature From the Black Lagoon, has passed away. The 82-year-old retired actor and stunt-man was admitted to the hospital on February 12th, and died peacefully in the company of his wife and son yesterday morning.
After 1954's Black Lagoon, the "Gill Man" became a horror icon right up there with Boris Karloff's Frankenstein and Bela Legosi's Count Dracula. Like Karloff, Chapman found a way to bring depth and life to his character despite being buried beneath costume special effects. His film career may have been short-lived, but Chapman's devoted fanbase and niche in Hollywood history speak for themselves.
Don't know much about the Gill Man's human counterpart? You can get all the details from the icon himself: Horror-Wood ran a delightful interview with Chapman some time ago on all things Creature. There's also his personal website,
which he made to stay in touch with his fans. Meanwhile, take comfort
in knowing that Ricou Browning, who donned the Gill Man suit for the
underwater sequences, is still with us.
Read More