Prototype: Shape Shifters Take Manhattan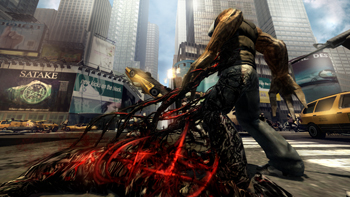 At last week's Game Developer's Conference in San Francisco, one most
talked about titles was the horror-themed Prototype. Today, Game Trailers
offers an interview with Chris Ansell of Radical Entertainment.
Ansell says
Alex Mercer, the hooded protagonist, is in the gray space between black and
white, adding, "He does very terrible things." In his shape-shifting
role, this dark anti-hero looks like a grisly monster that moves fast and
strikes hard. And Manhattan?
It hasn't seen such horror since 9/11. For proof, check out the clips featured
in last minute of the interview. The world outside New York City may be ready for the fear and
the carnage. But can the real life inhabitants of New York City deal? What do you think?
Read More