Philip K. Dick's Long Lost Young Adult Novel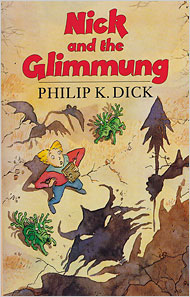 If you are looking for a novelist brave enough to question the humanity of artificial intelligence, whether or not man is truly sentient and what it feels like to live time backwards, Philip K. Dick is your man. But he's hardly the type of writer you'd recommend to a teenager just off a Harry Potter kick… or is he?
Dave Itzkoff of the New York Times has just published an article about a Dick's long lost young adult novel called Nick and the Glimmung, a sequel of sorts to his 1969 work Galactic Pot Healer. The plot feels like Dick on laudanum: The titular Nick, his family and cat Horace leave Earth in 1992 because pet ownership has been criminalized. Arriving at their new home — "the Plowman's Planet" — the family encounters a series of mishaps at the hands of the varied indigenous inhabitants: namely a wub, a werjes, and the hideous alien Glimmung.
The novel was never released in America, being weird enough only for British children, but there's good news: Subterranean Press has announced a US edition, coming this year. Hoorah!
Philip K. Dick's YA Novel [Paper Cuts] (via SF Signal)
Read More