Online Museum of Horror: Scary Comic Book Covers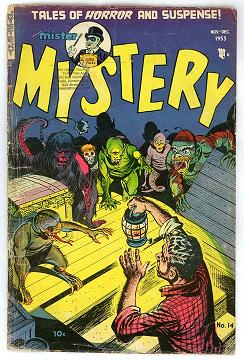 Before there was a Comics Code Authority, nothing stopped the makers of comic books from pushing the envelope of fear. If these mad editors, writers and artists could dream it, they would print it. Samuels Design has collected many of these terrifying covers for an online museum of horror.
Click on each cover and you'll find not only a larger version of the artwork, but a well-written nugget outlining the contents of each issue. On one page, you'll find more than 70 covers filled with moss-encrusted sea creatures, crawling ghost muck that will eat you up whole, radiation from a battery that melts your face, and a motley crew of monsters taking aim at a man dumb enough to enter a dark, creaky attic. Nonetheless, judging from the graphic novels and horror video games of today, some of these covers look somewhat tame by comparison.
Read More