New Site Scratches Surface of Scar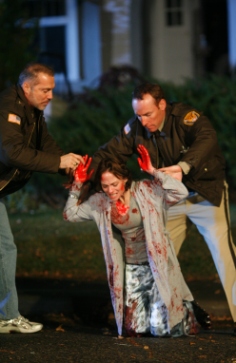 Thanks to high-definition 3-D technology, Jed Weintrob's paranoid slasher film Scar is sure to leave a lasting impression. While we've yet to see a trailer, Scar's new website provides enough gooey stills and production information to tide you over.
The film stars Angela Bettis as Joan, the survivor of a serial killer abduction who has spent sixteen years trying to forget the past. Returning to her hometown for the first time, it becomes clear that someone else hasn't forgotten either — are the new slayings a coincidence, or a personal message to Bettis and her family? An early review from Fangoria gives the impression that Scar soars above expectations set by such recent predecessors as Captivity — and it doesn't skimp on the blood.
Read More